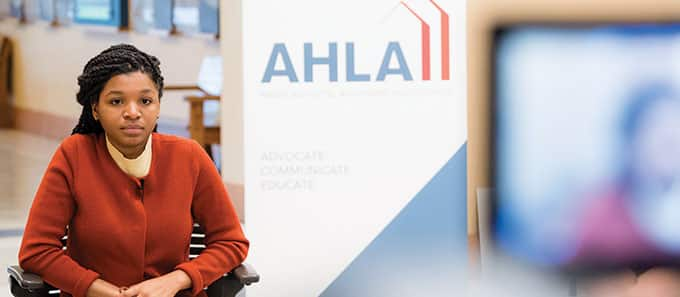 From Goodwill Greater Washington to Front Desk, Hyatt House Washington DC / The Wharf
Before enrolling in the hospitality training program at Goodwill Greater Washington, Emani  heard about the program while she was a student at the Latin American Youth Center. Emani and her cousin decided to give it a chance and ended up graduating together.
Goodwill was not her first job training program. She previously spent six months in a curriculum that would teach both formal classroom-based learning and experiential skills-based training sessions. After she joined Goodwill's hospitality program, she immediately noticed the difference in the way the programs were administered. Goodwill's program emphasized experiential learning and making authentic job connections. Their teachers and coaches took an individualized and personal approach to their training and stressed the importance of effective communication.
Through Goodwill's partnership with the American Hotel and Lodging Association and Hyatt, Emani had an opportunity to explore various roles, career paths, and inner workings of the hospitality industry. She found herself attracted to roles that would allow her to utilize her passion for engaging with people, especially through customer-facing roles. Everyone in the program had an opportunity to shadow at two different hotels to gain real-life work experience. This aspect of the training was incredibly engaging and helped her figure out where she wanted to start my career in hospitality.
As part of the job shadowing experience, Emani spent a week at Hyatt House Washington DC / The Wharf, where she worked alongside front desk agents. She experienced firsthand how essential teamwork and communication are in servicing hotel guests. On her last day of shadowing, her supervisor shared that he was also a graduate of the Latin American Youth Center and has since progressed to his current management role. This interaction inspired Emani to pursue a career with Hyatt.
After graduation, she was offered a full-time front desk position at Hyatt House Washington DC / The Wharf.  Her peers, including her cousin, also earned full-time positions in hospitality. Reflecting on her experience Emani says, "I am thankful for the partnership between Goodwill, American Hotel and Lodging Association, and Hyatt for providing me with the skills I needed to be successful in my new role. I hope to own a hotel franchise someday and offer young adults, like myself, the opportunity to start a career that provides them with a clear pathway to success."