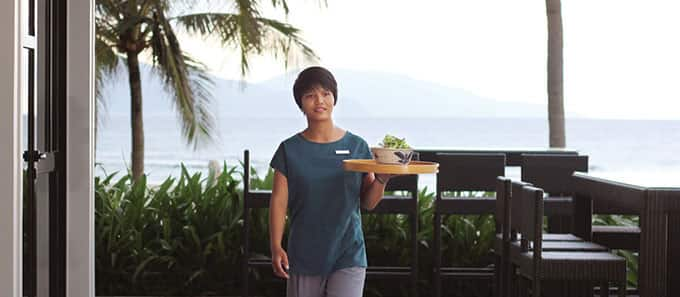 From STREETS International to Waitress at Hyatt Regency DaNang Resort and Spa
Linh grew up in an impoverished, isolated Co Tu Village, located in one of the minority communities in central Vietnam. Her parents were subsistence farmers, as were the majority of the people living in her village, and they were frequently left with very little food to eat. In order to give herself an opportunity to work in hospitality, Linh decided to join the STREETS program.
After successfully completing the program, STREETS was able to assist Linh with securing a position as a seasonal staff server at the Hyatt Regency Danang Resort and Spa. Several months later, having proven her hospitality skills, language proficiency, and professionalism, she was offered a permanent position at the resort's popular Beach House restaurant. While working at the hotel, Linh met her future husband, Vien. He has worked at the resort for four years and started out as a Steward. After five months in the position, he transferred to the culinary department to become a Commis.
The Hyatt Regency Danang Resort and Spa has provided a supportive environment for their staff, which has enabled Linh and Vien to grow in their hospitality careers and life together.  They had their first child, and when he became ill at 20 months, they were able to provide him with proper medical care at a nearby hospital in the modern city of Da Nang, where they reside. Linh feels extremely supported in her position with the resort, that she and her husband are continuing to grow their family. Through her hard work and the support of Hyatt Regency Danang and STREETS International, Linh is living a very fulfilling life.