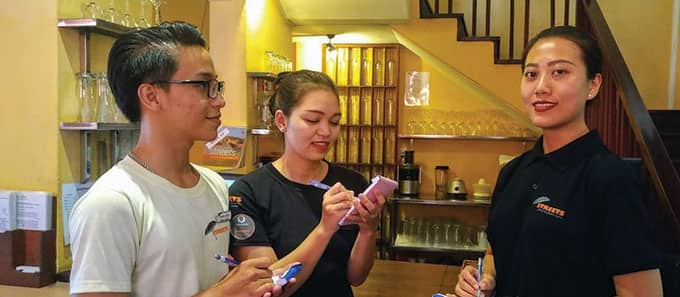 From STREETS International to Restaurant Manager, Park Hyatt Saigon
Phuong grew up on the Cham Islands, off the coast of central Vietnam, with no running water, healthcare, or high school education. She was only able to support herself through the beginning of high school; but luckily, she was introduced to the STREETS program when they were opening their first classes. After working quite hard at her STREETS apprenticing and studies, she graduated and started her career at the notable Four Seasons Resort The Nam Hai, Hoi An as a server. Soon after, she received a promotion to a supervisor. 
Several years later, she was eager to explore opportunities in the high-end luxury hospitality market. STREETS has a close relationship with the Park Hyatt Saigon General Manager, so Phuong decided to pursue an opportunity with Park Hyatt Saigon. She was hired as a Service Team Leader. She continued to grow and develop through her exemplary work ethic at Park Hyatt Saigon, which earned her a promotion to Assistant Food and Beverage Outlet Manager. 
Phuong always puts family first. She helps support her parents on the Cham Islands with many of their basic necessities. She also helps mentor recent STREETS graduates. Most recently, coming full circle, STREETS celebrated her return to the program as a Restaurant Manager. The STREETS family is happy to see Phuong pursue her dreams and help others follow theirs as well.
"I am so lucky to have STREETS and to have a family. It hurts me to know that there are people who have it more difficult than me; it is my dream to help people."