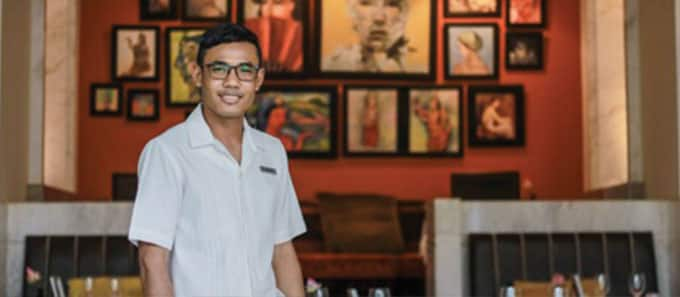 From EGBOK to Waiter, Park Hyatt Siem Reap
Soeurng was born in Kampong Speu, a province of Cambodia. At the age of 12, he left his family to move to Siem Reap and live in the APCA orphanage. At APCA, Soeurng took hospitality classes taught by American volunteers, and they educated him about EGBOK Mission, an organization that trains underserved young adults in the hospitality industry of Cambodia. At the time, Soeurng was not interested in hospitality or EGBOK. His only concern, as a typical teenager, was to focus on his big exam in grade 12. After his examination, Soeurng and his friends were discussing EGBOK Mission, and his friends seemed to be very intrigued in studying hospitality, which in turn, sparked Soeurng's interests as well. Due to his lack of knowledge and skills in hospitality, he decided EGBOK would be the perfect place to begin his career in the industry. Months later, the EGBOK staff came to speak more in depth about the organization, their classes, and what they would provide. After this presentation, Soeurng became even more eager to join the EGBOK family. 
Soeurng was chosen to be an EGBOK student, which became a life-changing experience. Not only did he gain invaluable hospitality skills but also in meeting other people and making new friends. Soeurng said of EGBOK, "EGBOK is very good school and supports a lot of students that didn't have job skills. Teachers always provided us with quality teaching and self-practice. I am so proud to be an EGBOK student. When I was at EBGOK, there were a lot of classes but I really enjoyed it and was willing to learn as well."
When it was time for Soeurng to complete his internships, he was selected to conduct his internship at Park Hyatt Siem Reap. His first internship began in Housekeeping and the second in Food and Beverage. Soeurng said the following about his experience, "While doing my internship, I really enjoyed it. There's a lot of support from my Hyatt colleagues. They encouraged me and taught me new skills and would even act as my teachers too. They were so friendly and always supported me during my internship."
After his second internship, Soeurng was back at school preparing his CV to apply to other hotels when his teacher approached him about an opening as a waiter at Park Hyatt Siem Reap.  He applied, interviewed, and is now a full-time team member at Park Hyatt Siem Reap.