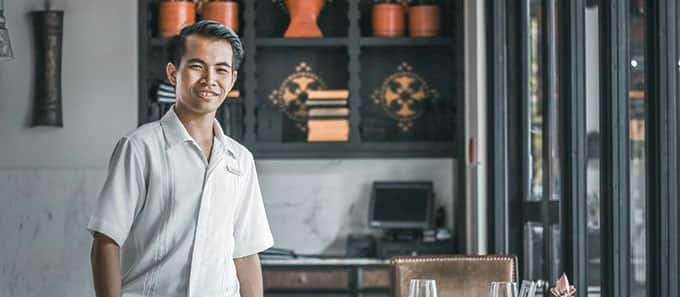 From EBOK to Waiter, Park Hyatt Siem Reap, Waiter
Chivorn is one of 10 children whose family lived in the countryside of Siem Reap, Cambodia. Chivorn moved to the Foursquare Children of Promise Orphanage in 2003, where he lived for the next 11 years until he finished high school in 2014. Tragically, Chivorn lost both his parents by 2006.
Chivorn was happy to stay at the orphanage because this meant he would be able to finish high school; something that was not promised if he had stayed home to live with his brothers and sister. At 20 years old, Chivorn graduated high school and left the orphanage in pursuit of finding employment. During that time, he moved back to Siem Reap to rent a room from his siblings and find work, which proved to be difficult as he lacked experience and needed to improve his English-speaking skills.
But as fate would have it, Chivorn's luck would change. His brother worked with an intern from EGBOK Mission, a group that educates disadvantaged young adults in the hospitality industry of Cambodia. Chivorn's brother took him to EGBOK to learn more about the organization. He learned that not only would he have to wait for the next term enrollment to register, but he also needed to complete a 3-day ITL class; a training session which focused on hospitality the first two days and spent the third day on hotel inspection. Although the requirements are strict, they are aimed to help young underprivileged adults living in the countryside who are unable to continue their studies. Chivorn passed the interview with flying colors and was selected to join EGBOK Mission.
During his time at EGBOK Mission, Chivorn trained in various skillsets such as: life skills, computer skills, math, English, and global knowledge. Chivorn's main expertise's included housekeeping, and food and beverage. He completed two three-month internships at Park Hyatt Siem Reap, the first in Housekeeping and the second in Food and Beverage. At the end of his second internship, his manager asked if he was interested in a waiter position that was open. Chivorn was hired!
"Working for Park Hyatt Siem Reap is my dream because it is a five-star international hotel, the best place to learn and grow. The staff is really friendly and helpful. They treat me like their family member. More importantly, they care for the people and the community. In the future, I want to become a Food and Beverage Manager. I stick to my own philosophy that nothing is impossible. To make my dreams come true, I will do my best."