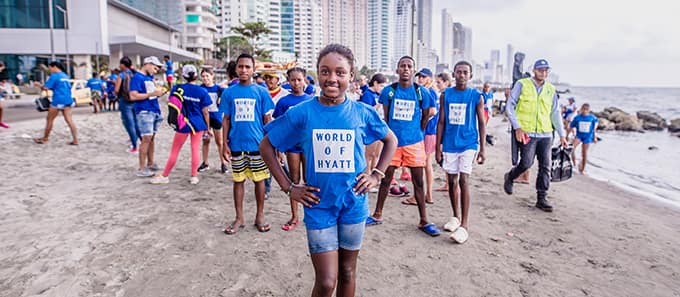 Getting Kids Back in School with Hyatt Regency Cartagena
At the nonprofit called Fundación Amigos del Mar, the mission is clear: to help the children of the island Tierra Bomba to reintegrate back into school. The organization motivates students to return to school with recycling-art workshops, English and Spanish language classes, and other fun activities.
Hyatt Regency Cartagena helps Fundación Amigos del Mar further its mission thanks to Hyatt Community Grants. The partnership is solid: Tierra Bomba kids have painted a colorful mural in the hotel and participated in a local beach cleanup day. In return, Hyatt Regency Cartagena donates school materials, including technological equipment, classroom furniture, and water sports equipment.
When students know that caring adults are concerned if they miss school, they're more likely to attend. Together, Hyatt Regency Cartagena and Fundación Amigos del Mar are helping to motivate the young villagers of Tierra Bomba.